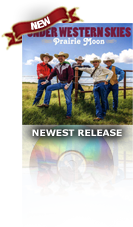 Gene Autry Museum

Will Sullivan
"Bass and vocals. Native Texan. My favorite songs are about Texas and all the natural beauty we enjoy who are lucky enough to live here."
Tim Callaway
"I sing harmony, lead, write cowboy songs and play lead and rhythm saddle guitar. I hope you enjoy good clean western music from where the coyotes are howlin', if so, you'll love Prairie Moon."
Michael Callaway
"Howdy Partner! I also sing harmony, write a little, sing some lead and play French Harp for Prairie Moon. I'm always wandering Way Out West in Texas under a Prairie Moon!"
Ron Callaway
"I sing lead, write songs, and play rhythm guitar. I'm proud to be the oldest living member of Prairie Moon!"
David Holcomb
"I fiddle around a lot and occasionally put in a "hot" mandolin lick to round out that Prairie Moon sound!"



Need us to play for
your next event?
Call Tim Callaway

(940) 632-5656
Call Will Sullivan
(940) 696-0991
Call Michael Callaway

(512) 632-6173
Call Ron Callaway
(940) 704-4346


April 02, 2016
Cowboy True 2016
June 16, 2016
At the Rock Barn in Henrietta, Texas
August 18, 2016
Texas Ranch Round Up
March 08, 2016
Music for "Campfire"